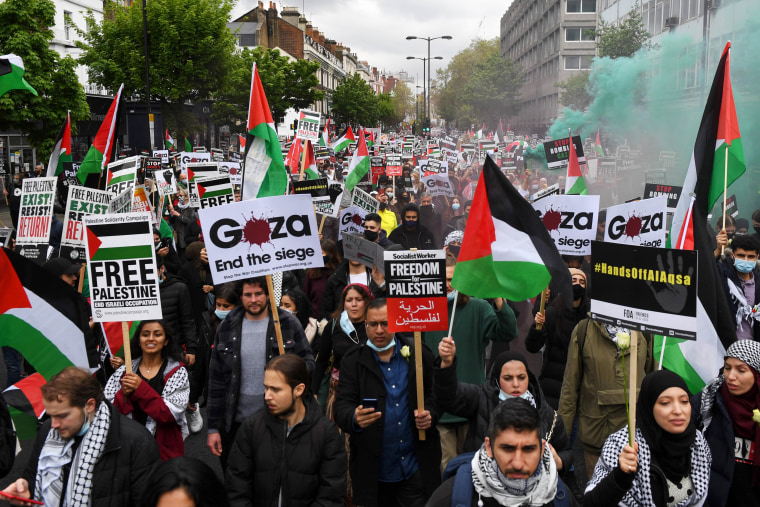 Protesters attend a rally in London to express solidarity with Palestinians on Saturday. [Chris J Ratcliffe / Getty Images]
The Palestine Solidarity Committee of South Africa (PSC) at the University of the Witwatersrand will tonight host a vigil in support of Palestinians. This comes as the Israeli aggression towards Palestine continues for the second week in a row.
The vigil will take place at 6pm (SAST) on Tuesday, 18 May 2021 at the Wits University Piazza in Johannesburg. Attendees are encouraged to bring candles, banners and wave the Palestinian flag to demonstrate their support for the Middle Eastern country.
Mikayla Borani, from the PSC at Wits, told Salaamedia that various speakers will address the crowd at the vigil. She said: "We're going to have speakers from various bodies – all speaking about Palestine and the importance of solidarity."  She added that it is also an effort to "educate the public on what's going on."
The vigil comes as thousands of people from London to Paris demonstrate their support for Palestine. At least 212 people, including 61 children, have been killed in Gaza as the latest wave of violence entered its ninth day on Tuesday. Meanwhile, Israel has reported 10 deaths.
According to numerous credible reports, a desalination plant that helped provide fresh water to 250,000 people is offline. Water pipes serving at least 800,000 people have been damaged whilst garbage piles up as a result of landfill closures. Learners also missed school due to school closures.
At a demonstration in London last week, Bongani Njalo, 33, a student from South Africa, told NBC News that he took "some time away from my studies to be here, as I thought my silence would make me complicit in the violence."
Julie Allie spoke to Mikayla Borani, from the Palestine Solidarity Committee of South Africa (PSC), on Salaamedia's News & Views show this morning. Watch the full interview here: