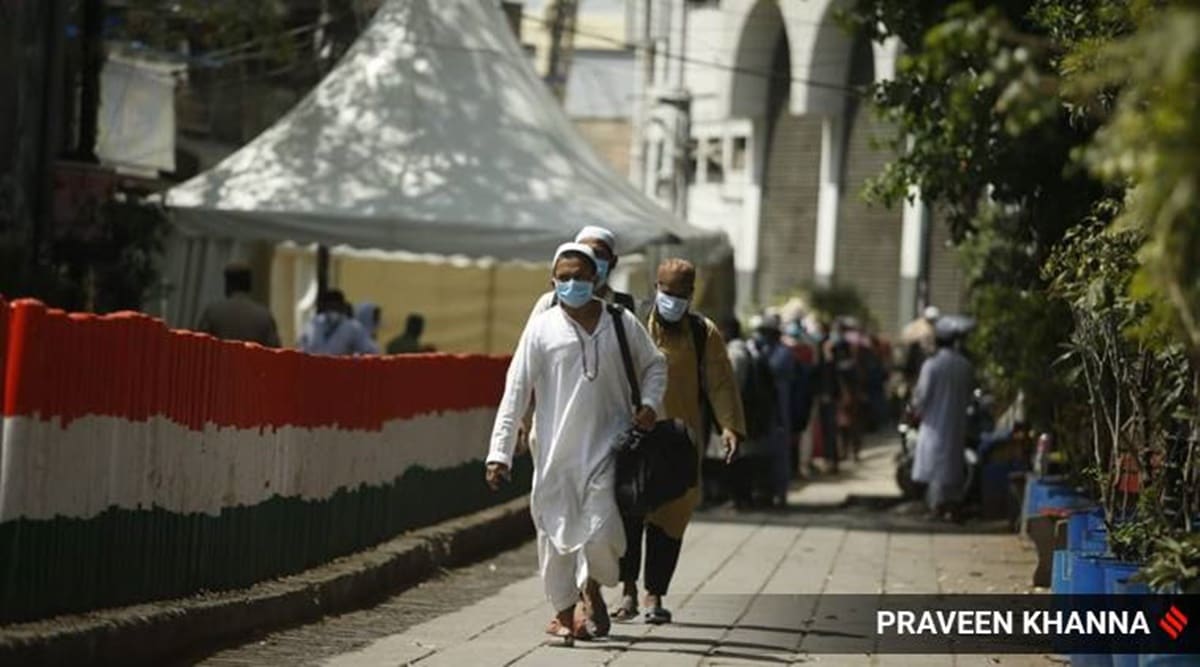 The court has been hearing a petition for easing restrictions at the Markaz, including the mosque where public entry was banned in the aftermath of Tablighi Jamaat members testing positive last year. [Image: Praveen Khanna /The Indian Express]
DELHI – As Muslims around the world observe the holy month of Ramadan, Muslims in India have been subjected to tight restrictions and, in some instances, closure of Mosques. This whilst thousands flock to the Kumbh Mela pilgrimage and festival in the city of Haridwar.
Just a day after the Delhi High Court stated that the Nizamuddin Markaz Mosque could be opened for prayers during Ramadan, so long as guidelines set out by the Delhi Disaster Management Authority (DDMA) are followed, Delhi Police told the court that no gathering or congregation can be permitted as these have been prohibited by the DDMA since April 10.
On Monday, authorities and mosque management conducted a joint inspection at the Mosque to mark the spots for prayer mats and holding of prayers with social distancing. The court has been hearing a petition filed by Delhi Waqf Board through advocate Wajeeh Shafiq for easing of restrictions at the Markaz. Presently, just five people are allowed to congregate at the Mosque, a year after it was closed when attendees tested positive for Covid-19.
Meanwhile, thousands are flocking to a weeks-long festival in the city of Haridwar, with many not wearing face masks nor practicing social distancing. The 'super spreader' event is taking place in the midst of India's second wave of the coronavirus.
On Wednesday, the country hit a new high of 184,372 new cases. With a total of almost 13.9 million cumulative Covid-19 infections, India has the second-highest number of cases in the world. The country's daily death toll passed 1 000 on Wednesday – for the first time since mid-October.
Prime Minister Narendra Modi's government, however, has refused to halt the month-long festival, despite more than 1000 people having tested positive at the site of the festival.
Salaamedia's Inayet Wadee spoke to Shaik Zakeer Hussain, editor at The Cognate, on the Iftaar Drive.  Watch the full discussion here: